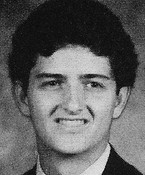 Jeffery Duke
KINGWOOD, Texas - Jeffery Myles Duke, 38, died in Kingwood, Texas, after a long illness. A native of Tupelo, he was born July 29, 1964. He was a 1982 graduate of Tupelo High School and a 1986 graduate of the University of Mississippi with a bachelor of science degree in chemical engineering. At Ole Miss he was a member of Kappa Alpha Fraternity and the Student Body Senate. He was a chemical engineer and project supervisor for KBR. He was a member of Kingwood United Methodist Church.
Services will be at 3 p.m. today in the Jefferson Street Chapel of W.E. Pegues with the Rev. A. Franklyn Brooks and Dr. Eldridge E. Fleming officiating. Burial will be in Tupelo Memorial Park.
Survivors include two sons, George Murray Duke and James William Duke, both of Kingwood, Texas; their mother, Linda Duke of Kingwood, Texas; his mother, Peggy Smith and husband, J.W. "Junior" Smith of Tupelo; his father, John Melvin Duke and wife, Debbie, of Tupelo; a sister, Julie Holcomb of Tupelo; a brother, John Stacy Duke of Tupelo; a stepsister, Janet Alexander and husband, Don, of Belden; two foster brothers, Nic and Matt of Tupelo; three nieces, Kimberly, Madison and Sydney of Tupelo; a special friend, Dr. Jane Murray of Kingwood, Texas.
Pallbearers will be Ben Logan, Sidney Holcomb, Matt Wyatt, Marty Duke, Tildon Barkley and Rhondie Burns.
Memorials may be made to the Jeffery Duke Fund, c/o Kingwood United Methodist Church, 1799 Woodland Hill Drive, Kingwood TX 77339.